The Intentional Spa at The Wellhouse
Cradled in the heart of The Wellhouse relaxation and wellness centre, our Intentional Spa is a considered space that centres on calm and comfort.
If you are seeking to take in the stillness, relax and regenerate – you will find this is the perfect place.
Our expert team has created an abundant menu of natural and multisensory curated treatments and rituals, making mindful use of plant-based natural beauty blends in this contemplative natural setting, and holding your peace and salubrity as the focus of each interaction, every moment.
The Intentional Spa at The Wellhouse welcomes you with a trail of herbs and botanicals, many of which inspire and enrich our Intentional Beauty Skincare range. We invite you, as you walk through the Wellhouse gates, to contemplate the reason for your visit, and to name the feeling that you seek to find here.
Intentional Spa facilities:
Reception and Aroma lab
Individual and Group Changing Rooms
Infusion Room - deep breathing and centring pre-treatment
8 Treatment Rooms including a Couples Room
Tranquillity Room
Experience Showers
Thermotherapy Suite & Spa Gardens
Indoor Hydrotherapy Spa Pool
Therapeutic Infrared Sauna
Traditional Finnish Sauna
Herbal Steam Room Sauna
Outdoor whirlpool baths and glacial bucket shower
Herbology Yurt
Numerous indoor and outdoor rest areas
"The Bothy"
Curated Rituals
Other facilities at The Wellhouse:
Numerous indoor and outdoor rest areas
Nature trails
Walled Garden including a sensory path, pond garden, poison garden, and more
Thermotherapy Suite & Spa Gardens
Every step of your Wellhouse journey has been thoughtfully crafted to enhance your well-being. From the carefully concocted tea infusions and tonic juices to the pre-treatment area where every curve and nook is designed to hold and enable you in centring your intentions and engaging your breath before your chosen therapies.
The Thermotherapy Suite has indoor and outdoor channels and includes experiences that are unique to Rockhill. Enjoy a therapeutic infrared sauna, traditional Finnish sauna, herbal steam room, and our refreshing Hydrotherapy pool. Ease back in natural surroundings, amid ancient trees and the hum of wildlife, in an outdoor hot tub or bathtub – and follow it up with an invigorating bucket drench shower.
You are invited to arrive ninety minutes prior to your treatment appointment to enjoy the exclusive facilities of the spa thermal area. Please allow an additional 15 minutes to complete a spa consultation form, change into our luxurious robes and footwear and familiarize yourself with our surroundings.
The Thermal Journey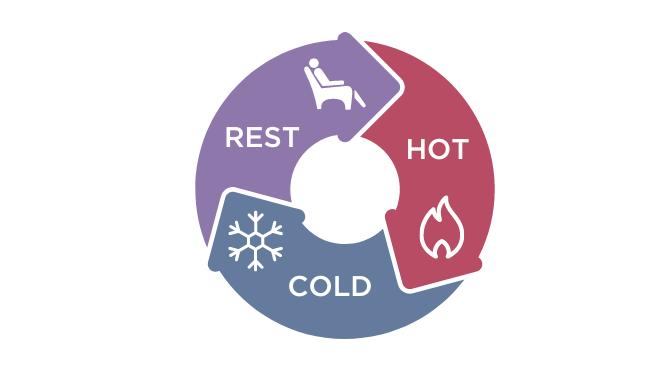 The foundation of thermotherapy at our Intentional Spa is the thermal journey, whereby an alternation of hot, cold and relaxation generates a purifying and revitalizing physical impact; as well as bringing serenity and calm to the mind.
It is a time-honoured practice, with physical and psychological benefits that Nordic advocates have attested to for more than 2,000 years.
To gain the greatest effect from the thermal cycle, the heat phase (sauna/steam) should be taken in for a ten-minute period; followed by 5-10 seconds of cold exposure (ice bath or bucket shower); followed by a rest of 10-20 minutes in length (relaxation area) – then, repeat.
The cycle provides a boost to circulation and immunity, it cleanses and treats the skin, accelerates recovery, releases endorphins, and activates the lungs to improve capacity.
Thermal Journey
HOT- Duration 10-15mins.
The first step of the Thermal Journey is pure heat.
Step inside, breathe in, feel the heat raise the temperature of your skin, your heartbeat race, blood vessels dilate, and dew-like droplets of sweat form on your forehead.
Benefits:
Relieves Stress
Soothes Joint and Muscle Pain
Eliminates Toxins
Stimulates the Immune System
COLD - Duration 5-10sec.
The second step of the Journey is glacial and invigorating. Feel the energizing effects of the thermal shock using the glacial dump bucket shower.
Benefits:
Releases Adrenaline
Closes pores and tightens the skin
Improves blood flow
RELAX- Duration 10-15mins.
Allow yourself to rest as you sway gently on our suspended swing couches. As your body recovers the bliss hormone Endorphins replace the Adrenaline.
Benefits:
Produces Endorphins
Creates a profound sense of calm
Releases tension
Promotes better sleep