Golfing
Allow us to take you back for a moment – to the very beginnings of golfing fever here in Letterkenny.
The roots of the highly regarded Letterkenny Golf Club can actually be traced to some early adopters taking up the craze on the lawns of the Estate at Rockhill!
The original club consisted of a group of male professionals from the town, who, discovering that the lands here were "splendid golfing ground", went about their sport while the Stewarts of Rockhill were in London for the winter. The land steward, Robert Robinson, had worked with the Stewart family for many years and was fastidious about ensuring anything that happened on the estate had the owner's blessing. So, in April 1894, he wrote to Major General Alexander Charles Hector Stewart seeking permission for the men to create a "six pot" course: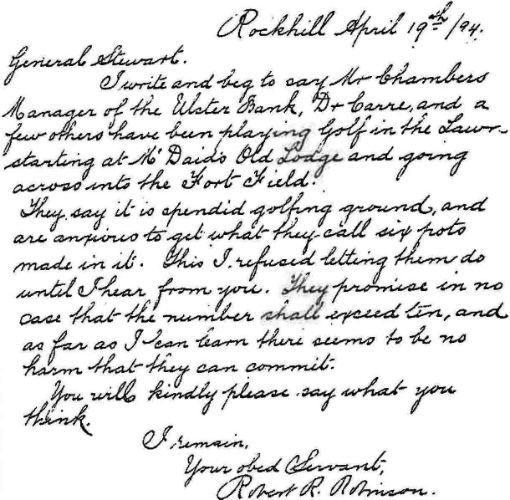 Rockhill, April 19th, 1894.
General Stewart
I write and beg to say Mr Chambers Manager of the Ulster Bank, Dr Carre, and a few others have been playing Golf in the lawn starting at McDaid's Old Lodge and going across into the Fort Field.
They say it is splendid golfing ground, and are anxious to get what they call six pots made in it. This I refused letting them do until I hear from you. They promise in no case that the number shall exceed ten, and as far as I can learn there seems to be no harm that they can commit.
You will kindly please say what you think.
I remain Your obed. Servant,
Robert R Robinson
…And so golf got off the ground in Letterkenny – right here in Rockhill. Only a matter of months behind our neighbours in Portsalon and Buncrana (both just 40 minutes away), whose clubs were two of the nine founders of the Golfing Union of Ireland in 1891 – the world's oldest national golfing body. At the time, Ulster was the hub of golf in Ireland – and to this day it's the sport that this region has succeeded most at, with Rory McIlroy, Darren Clarke and Graeme McDowell some of the leading lights on the world stage.
The history of the estate, and the location, make Rockhill a particularly apt base for a golfing tour of the region's world-class courses – or for your Irish Open adventure!
Rockhill is at a very comfortable mid-point between Ballyliffin, Portsalon, Royal Portrush and the famous Sligo course, Rosses Point. We can help you plan a schedule and give you some insights on the must-play courses as well as some undiscovered gems. Get in touch to find out more about Rockhill's golf offering.