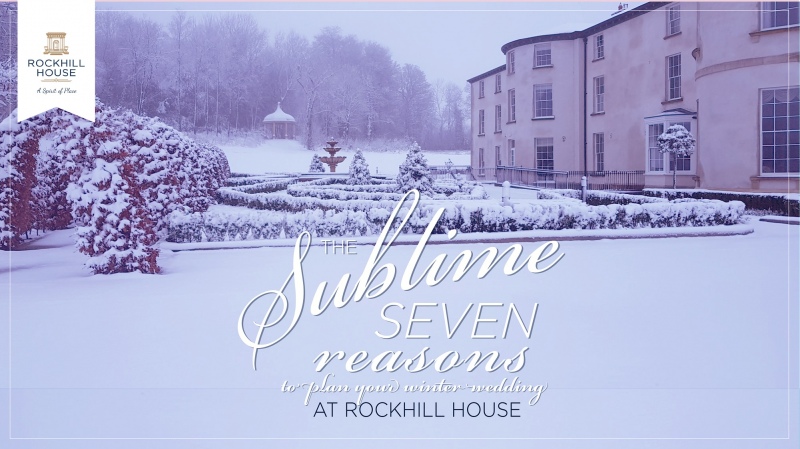 1. Rockhill - Your Winter Wonderland
Just imagine it! For those in love with the idea of a wedding day dusted in snow, Rockhill amid fresh drifts must be the ultimate dream. Of course, none of us can make promises of the capricious Irish weather – and indeed it is the element of surprise that makes a snow day special – but we can absolutely guarantee that the magic of winter at this exclusive wedding destination casts a daily spell of ever-changing beauty among the trees, gardens, temple and walkways of our Donegal hilltop idyll. At this time of year, this setting is a picture of pure romance.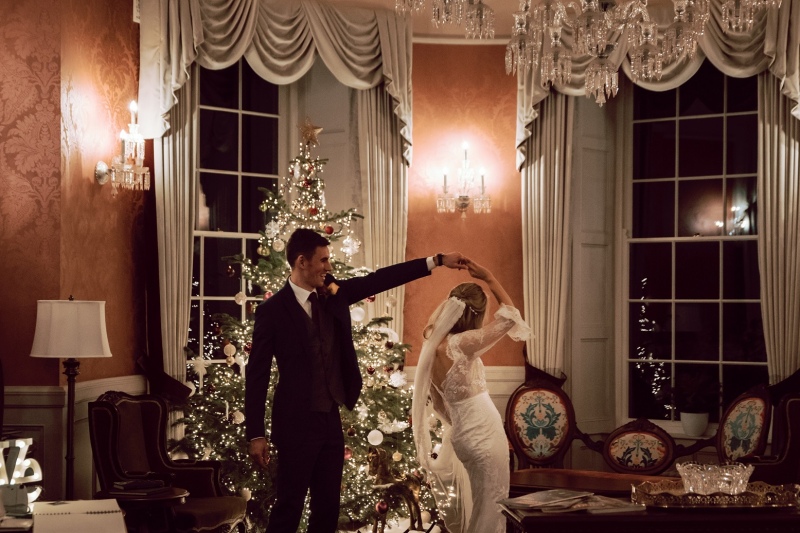 2. The Festive Glow
Planning a winter wedding presents so many lush opportunities for dazzling décor – and you will find no finer canvas for your imagination than magnificent Rockhill Manor House. Our winter brides are always enchanted to hear that the Christmas season stretches from early December right through to January 12 – it is a delight to experience the house and grounds resplendent with twinkling trees, flickering candles, seasonal foliage, glowing firesides and good cheer. And anything you choose to add to the scene – whether brilliant metallics, ruby red berries, snow-white fabrics or pale pastel florals – only adds to the enchantment.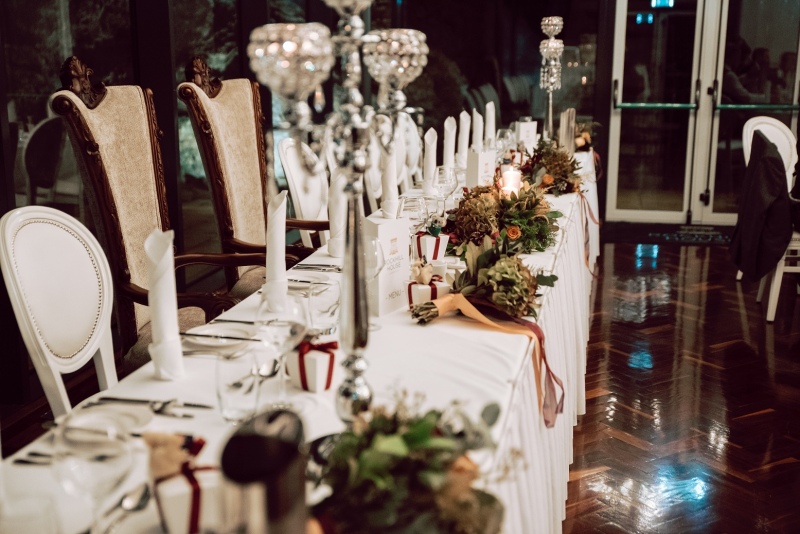 3. The Magical Mountain Light of Winter in Donegal
Working with the right creative photographer (and we can help you find them, should you wish to choose from our select list of trusted wedding suppliers), you will find that winter shots at our manor house venue are unmatchable. You see, it's the crisp Northern light that pours wonder on every corner of this luxurious country manor and on every leaf and blade of grass throughout the lush estate. You'll remember every incredible moment of your wedding in perfect, true colour – and with an abundance of lush, cinematic locations to enjoy and be captured in together (from the Temple, to the brilliant Main Hall and crystal-hung staircase), the memories will be myriad.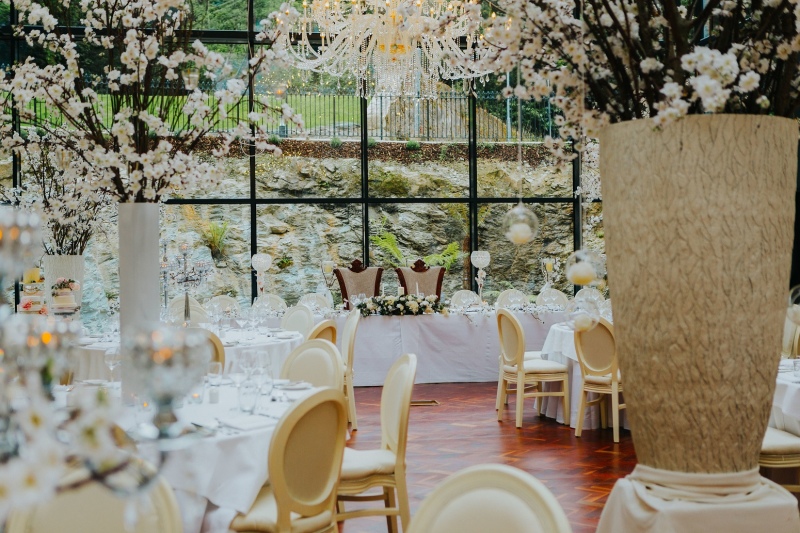 4. The Epic Orangerie
The epic Orangerie is a breath-taking setting for your wedding party – with glass ceilings that stretch up to meet the starry winter sky; elegant parquet flooring that's a delight to dancing shoes; a rockface backdrop that lends drama to your top table and so much glorious space to revel in. This is where you'll feast on our spectacular seasonal menus, prepared with craft and skill by Rockhill's house chefs. It's where you'll make your grandest entrance, raise your wedding toast and celebrate the whole night long in grandeur, joy and all together.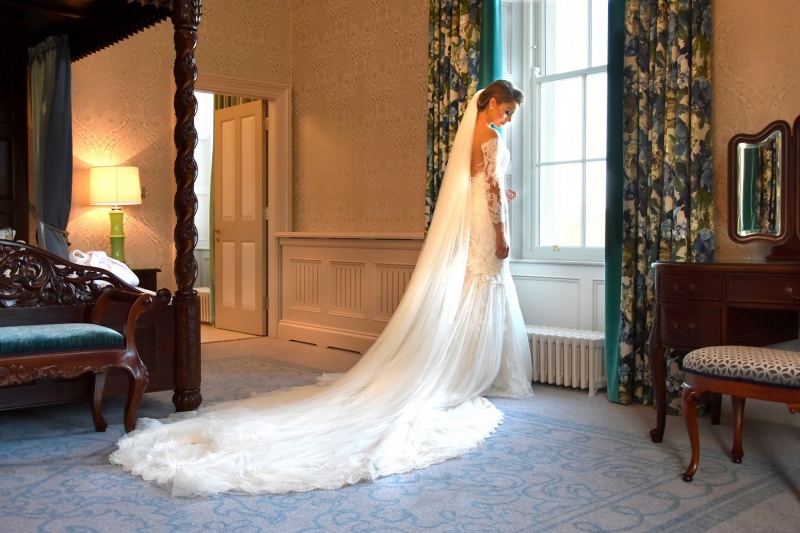 5. The Crisp Delft blues of the Bridal Suite
The Vandeleur Suite is at its most beautiful in winter, its crisp Delft blues glimmering in white light streaming in through wide windows. This is surely Ireland's most ceremonious and atmospheric bridal suite – a place of history and luxury; a most fitting place for your greatest love story to begin.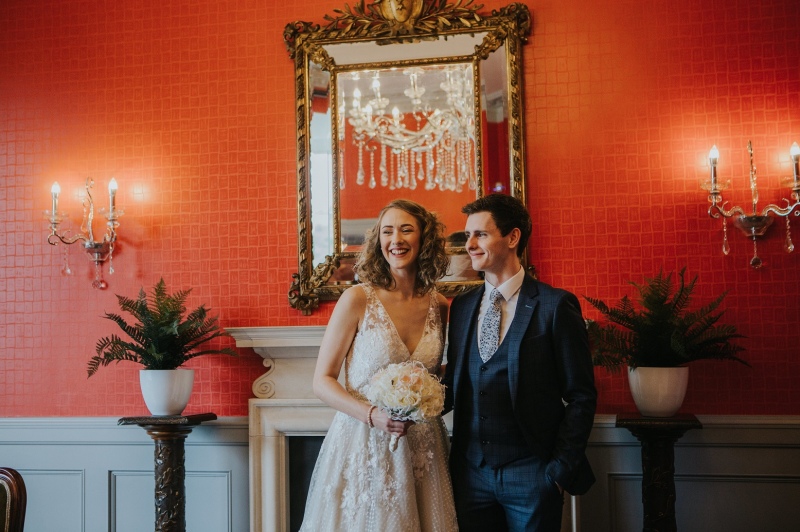 6. Joyful Contrast - Bright and Warm, Gazing Out on the Freezing Darkness
There is nothing greater than a warmly considered, lovingly kept indoor winter haven when cold and storms are drawing in outside. At Rockhill, our Donegal country manor hospitality is the epitome of cosiness in an Irish winter. Spend a few days in celebration at your wedding and you'll have ample time to luxuriate by our firesides; kick back in plush armchairs with warming drinks and stories of the night before; taste soothing winter fare from our chefs' seasonal kitchen; and hide away from all the world for a little while longer…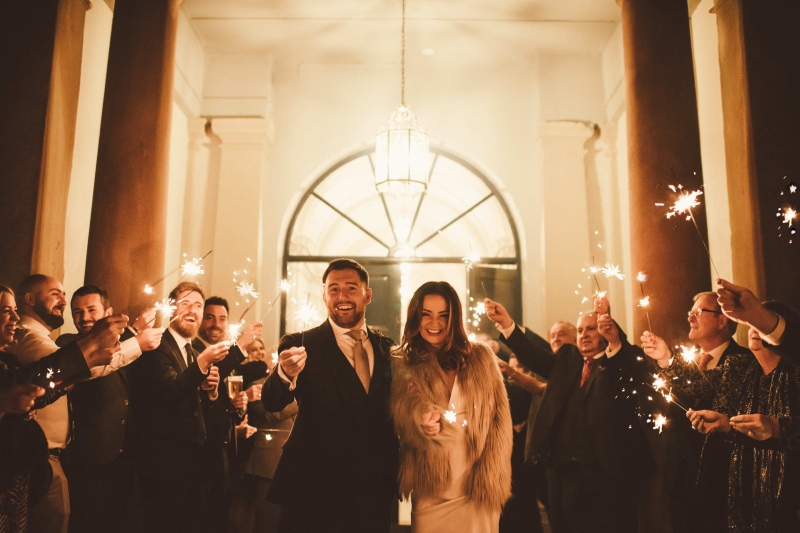 7 Total Immersion
What can we say? A winter wedding at Rockhill House is all about total immersion – just relaxing and taking it all in and allowing yourself to be wrapped up in the Sense of Place and in the attentive hospitality of our expert wedding team. There are so many details for you to discover yourself – you'll have your own favourites; your own reasons for dreaming of an exclusive country manor winter wedding and we want you to enjoy every aspect. Just dive in! Book your wedding on selected dates between October 2020 and March 2021 excluding Christmas & New Year period and avail of Rockhill Complimentary Incentives to enhance your Wedding Day.
Some of our most popular incentives include enhancements to your Drinks Reception, Your Wedding Banquet & even an afternoon mid-week after party for 50 guests with a signature barbecue and one man band!
T & C apply
Minimum Numbers of Guests apply to Incentive Package