Joseph Pilates famously said "Civilization impairs physical fitness and "physical fitness is the first requisite of happiness '. As he embarked on his journey to rid the world of pain, he was continuously met with/unable to deny the inextricable link between mind and body. Pilates became a melting pot of ideas, taking what Joseph Pilates believed to be the best elements of Tai Chi, Yoga, Boxing, and Martial Art set up. The gift he has left us with is a series of exercises that, when properly instructed, achieve complete coordination of body, mind, and spirit.
Pilates exercises are designed to counteract the imbalances of everyday living. Scientifically proven to rehab postural imbalances and prehab for the purpose of pain-free living or more extreme athletic endeavors.
Meet the instructor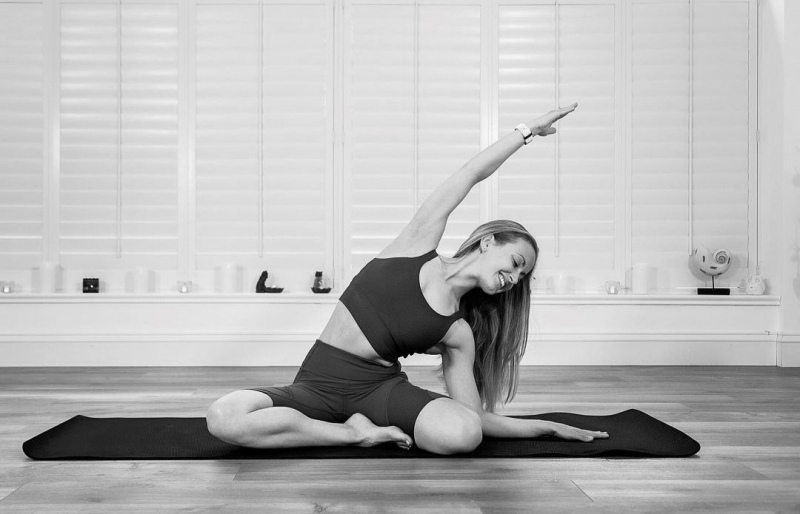 At Rockhill you will be guided by Hannah Ryan (Physiotherapist and Pilates teacher trainer) through your Pilates journey. There is a place for each and anybody to start Pilates, whether you are a complete beginner eager to learn, rehabbing from an injury, keen to improve sports performance or practicing self-care. At Rockhill, we have put years of research into wellness and we understand the importance of setting an intention and being consistent. When we set an intention, we should have a specific achievement in mind. We are results driven through these Pilates courses.
In Pilates from day one, we all want to achieve the fundamentals. We learn how to set our bones and access our core muscles. We learn how to breathe to achieve stability and vitalize the body.
Our intention as we continue is to feel and see the notable difference in strength, length, coordination, focus, and increased body awareness. These are measurable each week as you undertake a carefully designed course where each class links to the next.
As we continue, having been bitten by the Pilates bug, we may intend to practice in order to perform more advanced Pilates moves with ease and precision
The intention we set out with, makes all the difference. "Change happens through movement and movement heals" Joseph Pilates continues to describe how the muscles move in response to deeply embedded and revisited thought patterns, so we train and attain those preferable firing sequences through carefully curated, balanced classes. He also spoke about how the muscles cannot move without direction from the mind.
During a Pilates class, you can expect a mental workout as well as a physical one. There is so much to focus on, ´focus' and 'precision' being principals in Pilates, that you do not have time to think about anything, other than the task at hand. For this reason, you leave the class feeling centered and in control. The movements correlate to mental strength and stability, as well as bodily well-being. Joseph Pilates included the balance of spirit because he believed that "the mind when housed in a well body, possesses great sense of power". The sense of power he refers to is meant as something greater than ourselves, our best selves, our spirit, a new level of feeling well, standing tall, being grounded and connected to ourselves and mindful enough to be connected to our surroundings and experience life in the here and now.
Joseph Pilates believed in allowing our skin to breathe and exposing ourselves to nature. He wore shorts through the depths of New York winters, in order to breathe through the body's largest organ- the skin. When there is shortness and tightness in the body, there are pathways blocked; blockages of blood flow, immune cells, restricted joint access, and loss of muscle ranges. When we experience postural pain, the skin is also restricted and the body cannot breathe properly. This is linked to feelings of anxiety and resentment towards our bodies. We intend to embark on this Pilates journey to finally experience how amazing our bodies are meant to feel. We slowly massage ourselves from the inside out with Pilates movements and breathing to release these sticky areas and strengthen our posture so that they don't return. In Rockhill we are surrounded by nature, the setting is tranquil and fresh, a safe haven from the hustle and bustle of traffic and the busy town of Letterkenny, very close by.